Actor Nakuul Mehta with just a mere glimpse makes all fall for him hook, line and sinker.
The actor currently portraying the character of Shivaay Singh Oberoi in Star Plus' Ishqbaaz is winning hearts.
The actor is witty and his humour is on point.
His Tweets on the social media website Twitter is filled with wit and makes all smile.
Read some his Tweets and our commentary to go with it below.
1.He Is Not Afraid Of Underplaying Himself
When someone suggested he have his own book on Fifty Shades of Shivaay, he did not mind accepting he will not be writing it but just wear a fancy suit and do the dramatic narration! Modest enough, ehhh?
2.Smile Away Nakuul Mehta
While he happens to be the reason of umpteen number of fans muskurane ki wajah, Nakuul Mehta found his 'MOOSkuraanein ki wajah'! Lucky Moose or lucky Mr. Mehta?
3.Ohh He Is Truthful Alright!
Looking cool sitting by the cool water you think he paints the picture of tranquil serenity. Hold the thought right there. It is just him sitting there and repenting his choice rather lack of choice for not bringing along the swim trunks. He is truthful and one needs to learn from him the art of painting a serene picture like a pro.
4.The man is humour personified and HOW!
He was asked to sit and watch Ishqbaaaz and the man threw the ball back in their court asking to pick whether he should shoot for Ishqbaaaz or watch Ishqbaaz?  But the answer is obvious – shoot for Ishqbaaz, ain't it?
5.He Appreciates
100's of people might have told Nakuul Mehta, he is 'Kamaal' and he does not hold back himself and appreciates others. If they are 'Kamaal' he says so upfront.
6.The Soldier Wants Yummy Food
All that he wants for being a hardworking soldier is homemade 'makki di roti & saag'. Who can refuse such a yummy ask? Though Nakuul Mehta wrote it to Harneet Singh, we wonder how many Ishqbaaazi'ans parceled Makki Di Roti And Saag on the Ishqbaaaz set?
7. Ishqbaaz Literally
Talk about taking the name Ishqbaaz literally, make way for 'Love Eagle'. How cool is that?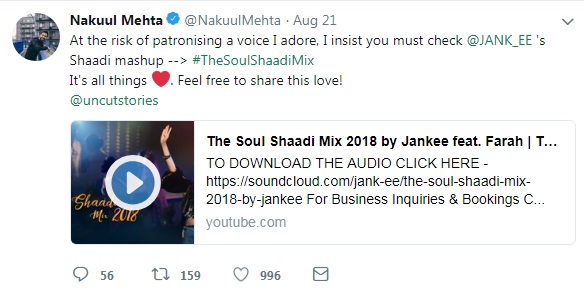 8.He Adores And Makes It Clear
He does not mind sharing with all what he adores. If it is close to his heart he makes it crystal clear.
9.Witty Best
A bold scene coming up in Ishqbaaz? The main man is here with a statutory warning of watch it in privacy and give your parents privacy too. As the screen fires up, the early statutory warning is a breather and privacy is attained.
10.He Is Goals
Looking for something healthy to start you day with? Do it the Nakuul Mehta way and have a Banana.. Sounds boring? Add Chips to the Banana and have Banana Chips. He, Nakuul Mehta gives legit fit junk goals. Don't we all need it on certain days?
11. Pokes Fun At Himself
He does not mind quoting his own piece of news and laughing at the same.
12. The Guilty Party
He takes and accepts the charges levied against him with grace. Wish every judge was lucky enough to get such an accommodating guilty party . Guess Fuze is the lucky one.
13. The Bearer Of Fun
He recently had a heart to heart fun chat with a journalist at t2telegraph. He had fun chatting and he rightly points out if the readers had fun, let the journalist know. A point well made Mr. Mehta.
14. Useful Tip
Want to make your day 'effin cool'? Simple read Nakuul Mehta's tweet and take his tip and tune in to Manmarziyaan soundtrack like right now.
15. The Curious Billu
He just asks. He is curious and interested to know what's cooking. And if the app is Rent A Boyfriend, he wants to help a friend you see and has no qualms saying it. So with curiosity piping hot laced with wit he asks, 'What do these services entail?'