Imagine a best seller writer, who has millions of fans, has millions of copies of her novels sold out and yet has never been seen by anyone in the world? She is a best seller super successful writer whose name is known to everyone but her face is known by none! That's Maya Jaisingh for you. She is enchanting, beautiful, stunning and dangerous!
If there's a perfect amalgamation of dangerous and beautiful, then Beyhadh 2 definitely can be claimed to be one of that.
The season 2 of the most awaited show premiered this December 2nd 2019 and we must say, we are already glued to it. The show started with a bang! The performances were spot on and Jennifer Winget was a sight to behold.
Here are some quick points that we absolutely loved in the first episode –
1. The episode started off with a sanskrit shlok that also somehow depicts the current mindset of Maya. The beginning wherein Maya walks towards a pond narrating 'vasamsi jirnani yatha vihaya navani grhnati naro parani' which she only described as "Jaise vastra puraane hone par manushya uska tyaag karta hai, waise hi sharir puraana hone par aatma naya sharir dhaaran karti hai" – Will get the audience glued to their screens instantly. That's the kind of start you would expect from Maya!
2. Ashish Chowdhry after a long time have graced the small screen again and he is a man with quite a bit of gravity. The personality of his character, Mrityunjay Roy, will pull you towards him. There's a certain kind of calm and composed attitude in his character that makes you wonder if that is how he has always been.
3. Rajat Verma as Rishi Roy is cuteness and innocence galore. In his very first scene with Jennifer Winget wherein it is evident that Rishi is smitten by Maya, you will take a liking towards him. Because his face showed the exact emotions that viewers probably felt seeing Maya. Moreover, he plays the mediator between his brother and father, which kind of makes him the most loved lad of the house. It will be interesting to see how Maya uses him as a bait to destroy the Roy's. Nevertheless, because of his innocence, it will be quite difficult to see him getting smashed by Maya. He may touch the emotional chords of the viewers very easily.
4. Shivin Narang as Rudra Roy may become your next crush! Trust us when we say this, in the fencing scene, the man will increase your heart beats and pair him with Maya – You are in for more adventure. Shivin as Rudra is a hard nut to crack. The man speaks truth and he says all of that without mincing. He is successful, brave and not someone who can be manipulated easily. At least he doesn't give you that sort of impression right away! In short, he is a headstrong man who can give some tough time to Maya. And Shivin Narang in the first episode stood as impressive!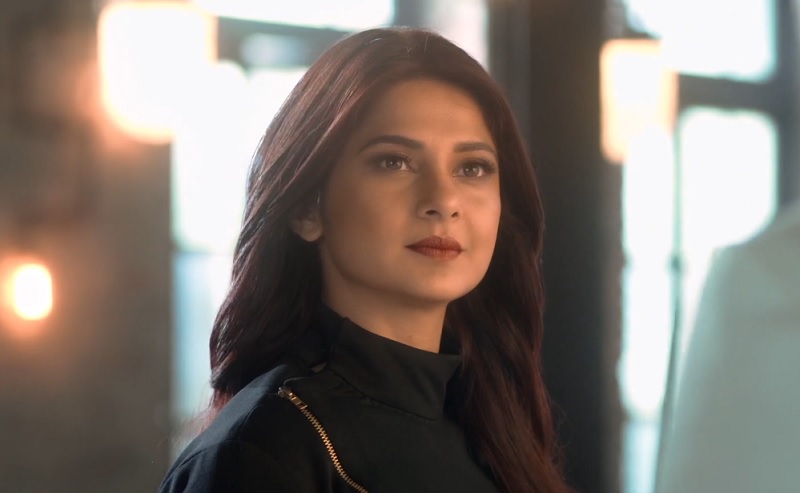 5. The dialogues of the show are quite intriguing too. Lines like "Jab dard hadh se badh jaaye, tab nafrat hadho ko tod kar beyhadh ho jaati hai" or "Dil ke ghaao jab dimaag par bhaari pad jaaye, to log usse aksar sanak ka naam dete hain. Sanak, jo junoon bhi hai aur sukoon bhi. Sanak akelapan deti hai. Par kuch log hote hain, jinki sanak unki sabse badi taaqat hoti hai" are get you get intrigues towards Maya more.
This show has multiple reasons to be watched. The first and foremost being Jennifer Winget. But along with her Ashish Chowdhry, Shivin Narang and Rajat Verma are no less. The writing until now is crisp and the dialogues are catchy. If you have been a Beyhadh fan during season 1, you will definitely love season 2 too. And if you didn't watch season 1, no worries, you can still watch this season. Because this revenge drama is a must try show on TV right now.