The latest offering from India's most loved OTT platform, ALTBalaji, Coldd Lassi Aur Chicken Masala is *Hands-Down* the best love story out of all the love stories ALT has presented us with.
It is as unique and quirky as it's name, "Coldd Lassi Aur Chicken Masala" for a mature love story and it has every single ingredient that is needed to keep the viewers glued to the screen, right from romance, humour to emotions that will move you and the exotic food shots that will leave you ravenous!
Coldd Lassi Aur Chicken Masala has a brilliantly written script, executed with equal brilliance by two extremely amazing actors in the business – Divyanka Tripathi and Rajeev Khandelwal and the soulful music only adds to the beauty of it.
Summary – The basic story of Coldd Lassi Aur Chicken Masala, that is, love, marriage and adultery is actually not something that we have not heard of or watched before BUT the treatment of this concept, the way this story has been told makes all the difference.
The story set in Bhopal 2010 revolves around an aspiring Chef, Nitya Sharma and a guy Vikram Singh Chauhan who falls in love with Nitya at first sight and follows her every step in the most literal sense. Just to be near Nitya, Vikram joins the same culinary institute as her. Because of his natural flair for cooking, Vikram not just gets an entry into the institute but in Nitya's heart too. It would not be wrong to say that "Food" played the catalyst in their love story.
They fell in love, got married, had their fair share of ups and downs as a married couple but there comes a point in every relationship whether it's marriage or friendship where an ocean of patience is needed to sort out the issues and that's where Nitya and Vikram failed miserably.
In the heat of the moment sometimes we end up saying things to our loved ones that we don't really mean and would not have even imagined saying them in our sane state but that doesn't give the other one a license to do what's unforgivable and a crime if not legally then at least, morally.
Nitya lost her cool, said something hurtful to Vikram and in return, he lost his character and cheated on her with her cousin. Cheating is the biggest crime one can commit in a relationship and consequences are too painful to put in words. In Nitya's case, it was even more painful because she lost two people that night, the love of her life, Vikram and the one with whom she grew up, her cousin Seema.
Also, how ironical it was, Seema was the one who did Vikram and Nitya's Griha-Pravesh after marriage and she was the reason why their marriage ended on a bitter note.
Nitya moved to Mumbai and became the Head Chef of an elite restaurant named, Indie Spice while Vikram went on to achieve two Michelin Stars Chef title for himself and is an entrepreneur as well.
After eight years when Vikram and Nitya's world collide again, there's mostly angst but some adorable and emotional moments as well which stirred our emotions real deep and left us teary eyed. The most beautiful thing about this love story is the note it ended upon. It's realistic, it's inspiring, it's a take away.
Ever felt all content yet empty? Happy yet sad? That's exactly how we felt after watching the series. Content and happy because Nitya finally got the much needed closure, so did Vikram. Sad and empty because it just ended too soon, didn't it?
Would like to mention, we don't know if there is a second season to it or not but even if there is no second season, we are completely satisfied and happy with the end and there could not have been a better ending to this.

Performances – The Queen of Indian television Divyanka Tripathi as Chef Nitya Sharma is simply brilliant throughout and in some of the scenes, Divyanka outdid herself. Despite playing the most loved IshiMaa for six years, Divyanka did not let Ishita's motherly vibe touch Nitya's and the fact that it was so distinctive, speaks clearly of her acting prowess. Divyanka owned the character of Nitya completely and breathed life in it. We have never seen Divyanka playing a character even near to Nitya before, this was a pleasant surprise for us and must mention, No one could have played Nitya better than Divyanka. Needless to say, we could not take our eyes off Divyanka because there is not a single frame in the entire series where she is not looking gorgeous!
The handsome and charming Rajeev Khandelwal was just superb as Chef Vikram. Rajeev got into the skin of Vikram so well that the difference between a Bhopali not so ambitious Vikram who was okay with living his life on his father's money and a two Michelin Star Chef Vikram Singh Chauhan was visible at first sight. Only Rajeev could have pulled that one with ease.
Madhu Sneha Upadhyay ( Tanvi ) and Mrinal Dutt ( Kayzaad ) have portrayed their respective characters superbly and if anyone comes to your mind after Nitya and Vikram, it's Tanvi and Kayzaad!
Priyanshu Chatterjee and Maninee Mishra appeared for a lesser time but are going to be remembered everytime one would talk about Coldd Lassi Aur Chicken Masala.
It was good to see Navneet Nishan ji on our screens after a long time and even though, Priyanshu and she did not share a frame together, still we could not help the Tum Bin memories that came along.
Saloni Khanna as Manira had our attention and especially when she advised Shekhar to be a man enough to deal with the problems, sort them out instead of being dependent on others to do it for him. Manira is cheeky and that's what we loved about her.
And, what can we say about the bundle of Cuteness Vivaan? We just adore him.
Screenplay and Dialogues – Screenplay and Dialogues credit goes to Jaya Misra who has given us both the seasons of Kehne Ko Humsafar Hain. Screenplay of Coldd Lassi Aur Chicken Masala is very well written for it keeps you engrossed throughout the series and even though the story pendulates between past and present, it does not confuses you at all.
In an interview with us, Jaya Misra said, it would be like watching two stories at the same time and we would like to completely agree with her on this after watching the series.
The past unfolds the love story of a young, carefree, madly in love couple while the present introduces us to the equation between two mature, responsible, independent individuals who were stuck in their past but eventually, decided to free themselves from it for better.
The ending has been written just brilliantly and as we mentioned above, this was the best ending one could have ever thought off. Nitya will finally get to live her dream while Vikram will get to father his son. Both got an opportunity to catch up on what they missed. This was the kind of progressive ending we all wanted and glad, the writers thought on the same lines.
And in all honesty, dialogues are the real king of Coldd Lassi Aur Chicken Masala. The dialogues add the real tadka to this story. Right from some really witty one liners to emotional, heavy duty ones, you remember them all by default.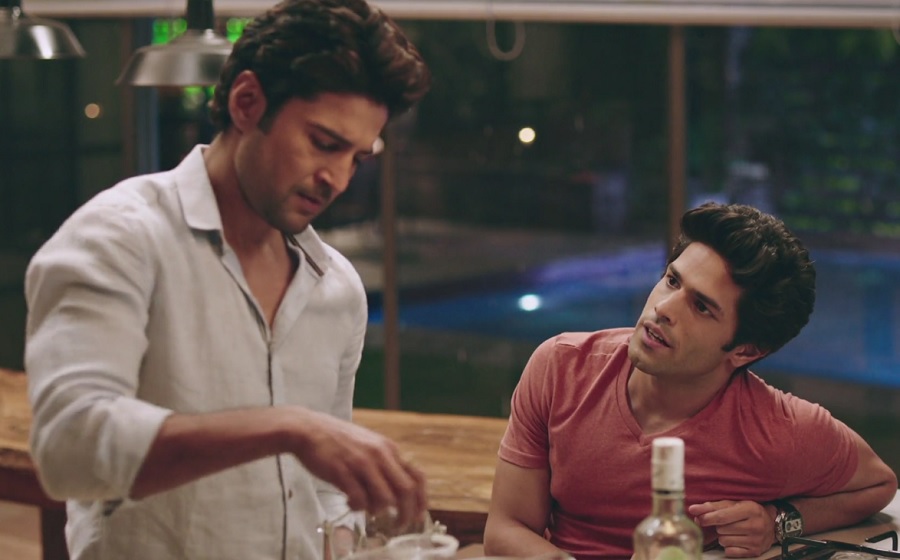 We would like to mention some of them –
• "Aao toh welcome, jao toh bheed kam!" – Nitya
• "Ladkon ki fitrat aankhon ke saamne hoti hai lekin pyaar mein andhi ladkiyon ki akal ghutno mein hoti hai." – Nitya
• "Vishwas.. suddenly hi toh aata hai!" – Vikram
• "Tum mujhe ye nahi bata sakte ki Seema yahan kyon thi, matlab tumhare ander ka aadmi abhi bhi ye maanta hai ki aurat ko aankh band kar ke mard par bharosa karna chahiye chaahein woh kuchh bhi kare." – Nitya
• "Dil ke khandaro'n pe ishq ke mahal nahi bante!" – Vikram
• "Jab koi rishta aapke paas hota hai, uski kadr nahi hoti, jab woh chala jaata hai toh uski ahamiyat pata chalti hai.. Par jab wohi shaks zindagi mein wapas aa jaaye tab.. tab asli sukoon milta hai!" – Vikram
• "Kal subah sooraj pashchim se uge ya north pole se.. finally main nayi subah ko accept karne ke liye taiyaar hoon!" – Nitya
Episode number five deserves a special mention for simply being the best episode of the entire series. You cannot get enough of that episode for it changed the dynamics between Nitya and Vikram to an extent.
All in all, the writing was powerful and impactful at the same time. Must say, the duo Jaya Misra and Doris Dey have done a commendable job!
Direction – The director of this ALTBalaji series is none other than Pradeep Sarkar and we are truly in awe of his skills, his vision. His way of storytelling always leaves you mesmerized. Each and every frame was a cinematic beauty and watching this series through his vision made it an even more wonderful experience. Team Coldd Lassi Aur Chicken Masala was blessed to have him as their director.


Production Designing – One of the very important reasons why we loved and felt connected with the characters and with the show for that matter is the little details that we often fail to notice. The kitchen, it's appliances, even the knives, appropriate places of Nitya, Vikram and Tanvi as all three of them share different financial status, the restaurant, the interior, everything was intricately detailed and SO well thought off. The credit goes to Madhu Sarkar. Her work is really appreciable. In fact, Coldd Lassi Aur Chicken Masala would not have been the same experience without her expertise.
Food Styling – Since food plays an integral part in this story, it would be unfair to not talk about the special focus on the food styling to make the whole backdrop more relatable and scrumptious for that matter. Each and every plate of food that appeared on our television screen perfectly captured in the cinematic frame by the one and only Pradeep Sarkar Sir left us craving for it to the extent that we had to press the pause button and order in because obviously, not everyone is a MasterChef like Nitya Sharma and Vikram Singh Chauhan, capable enough to make a "Perfect Dish!"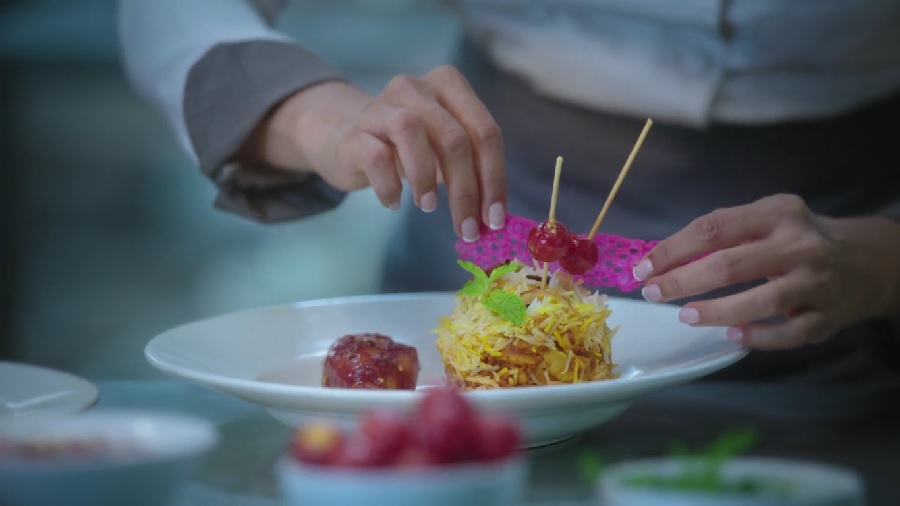 Guess, Food Styling team wanted to tease the audiences and they were quite successful at it. Weren't they?
Highlights – The dialogues, the background music, the original song track and the top notch performance by Divyanka Tripathi and Rajeev Khandelwal are the main highlights of the series.
If you have not watched it yet, go watch and here's a little tip – Have a hearty meal before watching it and Keep the tissue box handy. Thank us later!
Stay tuned to Fuze for more updates!