I had planned to write a review. But probably I ended up writing my own gibberish that I didn't intend to type down. Dil Bechara was supposed to release on big screen. Dil Bechara's trailer was supposed to be launched by its lead actors. Sushant was supposed to be there holding a mic on some stage, speaking on how he prepared for the film, for his character, how much he felt Manny and how he went on to portray him in front of the camera. All these were supposed to happen, but seemingly fate denied to let them happen.
Now, we would never know how he perceived 'The Fault In Our Stars'. May be from his film but not from his words.
Dil Bechara is his last gift to us. His last piece of art that talks about unconditional love and enormous hope. It talks about no matter what bouncer life throws at us, you just need someone to say 'okay' to you.
This love story for sure is going to make 'okay' sound romantic and hopeful to you. This movie is going to be more about 'feeling' than mere 'watching'.
Dil Bechara's trailer has more than one USPs. The biggest one is Sushant Singh Rajput (I deny to write 'late' in front of his name).
Sushant's character Manny is supposedly a SRK fan (which SSR himself was so his excitement with regards to these scenes must have been high!). In some of the little glimpses that we see him, he in a very SRKish manner comes up with certain gestures that instantly makes you smile. In fact his very first shot in the trailer will make you smile effortlessly. When he asks 'Tumhara naam kiss ne rakha, kissie?' only to be reminded it's 'Kizie', are moments that will make you forget that he is no more. The way he says 'Seri ka matlab okay' (with a special ring added to the word 'okay') will make you miss the intensity in his voice that you always felt while watching his films.
The dialogues are hard hitting too in the film which is expected from an adaptation of 'The Fault In Our Stars'.
"Tum mere heart ke liye zaroori ho. It beats faster every time you come closer"
"Janam kab lena hai aur marna kab hai, hum decide nahi kar sakte.Par kaise jeena hai, woh hum decide kar sakte hain"
The background score raises your hope about the yet to be released music of the film.
Sanjana Sanghi in her debut film is complimenting Sushant very well. Her character is the narrator in the trailer and we are actually knowing the story from her point of view. And she simply won't disappoint you.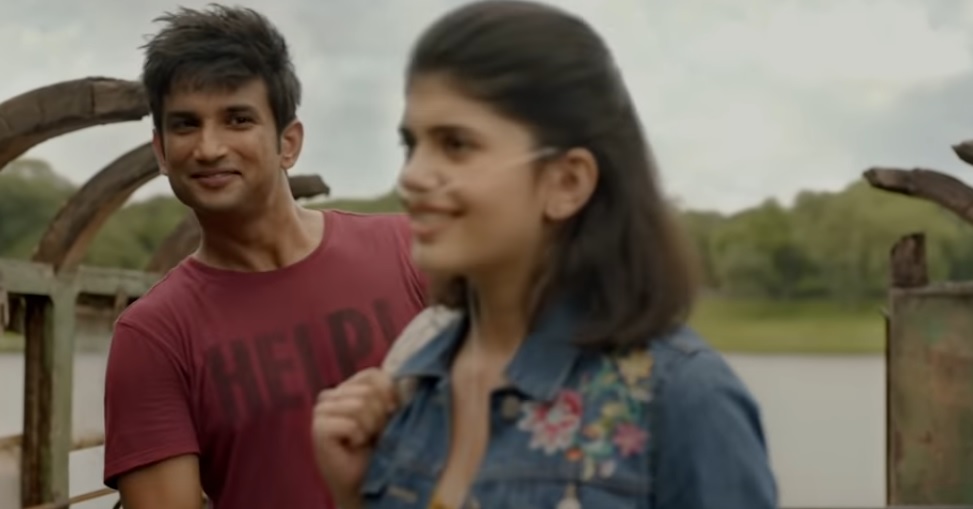 The last bit of the trailer is like a metaphor thrown at us. It's like he is asking us too, "Abhi nahi yaa kabhi nahi?".
Think before you say 'Kabhi nahi', he may simply not believe you and walk away saying,'chal jhooti!', which he already did.
Manny in Dil Bechara's trailer is a bomb of positivity. Live him. Feel him. If possible, celebrate him.
This story is filed and published exactly after 2 hours and 30 minutes after the trailer is released at 4 pm IST on July 6th 2020. At the time of publishing this story, the trailer video on YouTube had crossed 1.3 million likes.