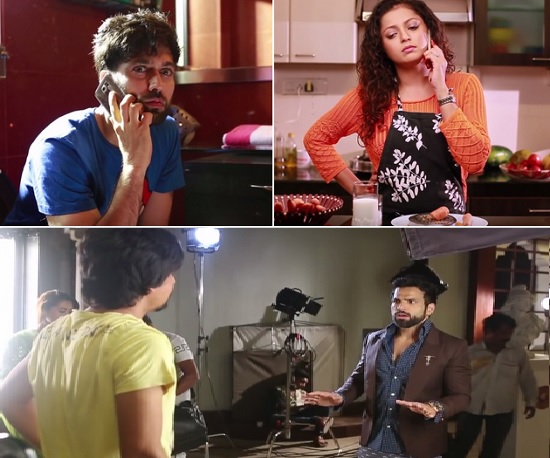 What Is It About –
The much talked about web series is already on air with its first episode being aired on Youtube already and in case you've missed here's what exactly it is all about. The series stars Nakuul Mehta, Alekh Sangal, Ram K Menon, Drashti Dhami, Rithvik Dhanjani, Karan Patel, Bhupesh Singh, Alok Shrivastav among others. However, Nakuul Mehta has taken a center stage in the web series and gives a paradoxical take on the lives of television actors. Having certain popular faces in the cast, the trailer of the web series has already been doing rounds since it was released and now the much awaited 1st episode is out too!
What Will Attract You –
Well the major thing to look forward to is the fact the stereotypical notion of TV industry being all about saas bahus ends here. You'll get a fresh insight into a never thought before concept and the blend of such fine actors who are apparently portraying their real self is a major enticement.
The Hits –
The very fact that it gives a sagacity into the world which that lies behind the limelight makes it a hit in the first place. Certain scenes like Drashti Dhami's 'sasural diaries' and those 'naag and naagin ki prem kahani' scenes are sure to tickle all the funny bones in your body and there are instances where you might fall off laughing!
Also Rithvik Dhanjani's part whereby the actor shows attitude for going to the loo and later instantly agrees to co-operate upon knowing that actor Karan Kundra wants his role, was one of the most hillarious sequences in the episode. The action, direction, screenplay and all seems really appreciative and instead of those shudh Hindi dialogues, one can relate it to reality (not to forget the frequent use of cuss words).
The Misses –
Apart from it seeming like a total hit, there are miniature scenes where things would strike as a little overboard. The lives of actors might be definitely having an opposite edge but for the TV industry, at certain places in the episode one might feel that the issues are a bit hyped than usual.
Certain scenes the way they are portrayed were absolutely unnecessary and it simply makes the writers of TV shows look more dumb. Too much of nothing is good and just because people loved an old man's constipation problems in 'Piku' and laughed at it doesn't mean it should become a trendy topic to make public laugh.
Apart from this little possibility here, the series looks like a complete entertainer till now and in case you haven't seen, then rush to catch up with its first episode already!!!