What does 'ShivIka' mean for you as one of their creators? What do they symbolize for you?
ShivIka – They are I think my life right now. I wake up thinking of them, I go to sleep thinking of them and all that I am thinking of is – What else we can do, how do we do it with them. They are a part of my heart.
And what they symbolize for me – They symbolize rainbow, glitter, unicorns, happiness. They symbolize red velvet cake. They symbolize lots of fashion. They symbolize dolphins, youth, beauty. They are my happy zone.
I love the fact that as a couple there is friendship, there is romance, passion, understanding, equality in them. It is just, I think, one of the strongest relationships that one has come across on television, which is based on equality.
And also the fact that both are alpha in their own head. Dono kissi se kum nahi hai, woh agar apne aap ko nawab samajtha hai, toh woh apne aap ko begum samajthi hai aur dono pagal hain. But they are Yin and Yang to each other. They just fit together and they are my happy place.
And I am so happy that they have found acceptance with so many people who love them. And seriously Shivaay and Anika are a beautiful representation of what a modern couple should be like.
He cooks, he has never told her off as she can't cook, he is the guy who fixes her problems but she still says she will fix her own problems.
In the whole world nobody can make him understand, he goes into his own thing but she is the only one whom he listens to. Even when they hate each other, they have that beautiful connection. And well, dono tedhe hain but mere hain.
Which scene in Ishqbaaz post redux has been emotionally fulfilling for you or made you love it for the way it was executed?
I am going to get more than flak for it but it's the wedding sequence. I think it was raw, it was primal, it was savage. It did things to me. It shook me.
The way Shivaay reacted, the way Anika resisted in her own quiet way and the way that whole thing was done. I really loved the wedding sequence because that really changed everything.
It was so disturbing but it was so real. I was riveted when I watched it. I mean the extent this man can go and then the way he changes. The moment he realizes (his deed) and the way he apologizes, woh maafi kamaana phase was so beautiful.
Standing outside her house without shoes in the rain and that jumping from that building and what I love the most is that Shivaay and Anika do things for each other without showing it to each other.
I also loved another beautiful moment, when he comes home (from jail) and he is broken and he can't sleep on the bed and she goes and sleeps with him.
The Church scene, I think, was beautifully executed. We have never ever seen a Church sequence like that on TV. And I think Lalit sir (director) and his team do a brilliant job.
He never told her that I did this for you, she never came to know who did it – That's love. Even in pre redux phase I remember that beautiful video confession that he made, that amazing 12/ 14 minute confession that was done by Nakuul. Till date wherever I go, people ask me why Anika didn't see it. But it was not meant for Anika. It was meant for the audience. And that is the beauty of love, you don't 'jatao' (express) what you did.
Shivaay and Anika don't do this 'thank you' and 'sorry' business. In fact the most beautiful part is that Shivaay could not say 'sorry or thank you' for such a long time and that is love. He jumps from a 20th floor building without telling the girl that he did it for her. Woh pyaar hi kya jo tum jataa rahe ho aur woh tumhe thank you bol rahi hai.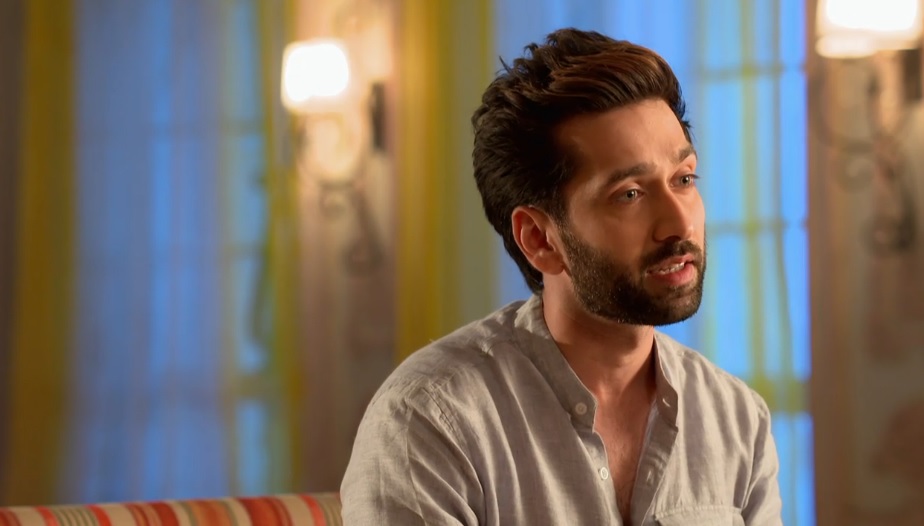 After Shivaay's video confession all were awaiting the moment Anika will see it.
But my point is people forget that the show is made for the audience and secondly it was Shivaay's moment of declaring his love for her forever which he showed to the audience. Now Anika will see and say 'ohhh thank you thank you and usko hug karr legi, baat khatam hogayi. Usse pata hai yeh sab'. They have been together in this journey and I like the fact that certain things are unsaid and unsettled because that's what life is. Every moment if you put words to it sometimes the feel goes away.
It is so beautiful to experience something and do it and that is what love is, right? Love is jumping off the 20th floor building and not telling you. And then waking up and electrocuting yourself because you want to save the girl. He will do all that and not say I love you. Ohh wow, what a character!…….contd
Click through the 'NEXT' pages to browse further