Ishq Mein Marjawan 2
airing on Colors is making heads turn. With intriguing and entertaining twists and turns up its sleeve, the daily soap is leaving no stone unturned to entertain the audience.
The show is creating a lot of buzz and with every twist at every turn, the show is becoming the viewer's favorite to discuss.
Vansh (Rrahul Sudhir), Riddhima (Helly Shah) and Kabir (Vishal Vashishtha), the main characters are giving the audience a lot to think about.
If you are a regular television viewing audience of Ishq Mein Marjawan 2 then you are ought to halt and analyze the three main characters and you will try to decipher them. That is the impact the characters have created.
With mind games, double crossing' and manipulations galore in Ishq Mein Marjawan 2, the show is ought to tickle your brain.
Today as a special feature we write about the recent 3 turning point scenes from the daily soap that caught our eye.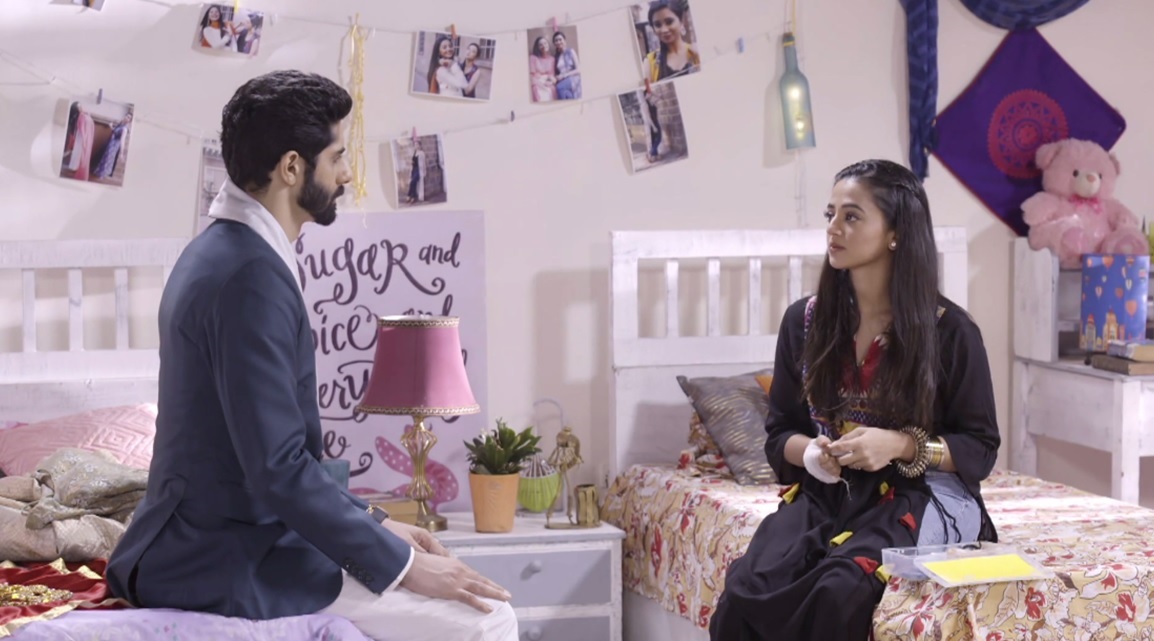 The Subtle Care : Riddhima was not ready to apply Vansh's mehendi on her palm. Thus inflicting pain on herself she burnt her hand. In comes Vansh and asks to see her hand. When he sees it is burnt, he quietly asks her to sit and hands over the first aid box to her. In this scene Vansh's concern for Riddhima came out pouring.
As she nursed her hand he sat there looking out for her. This scene amidst the two is a turning point as there is a slight shift in their dynamics. If Vansh had wanted he could have crowded Riddhima with his presence and insisted to tend to her wound. But he gave her space and in silence looked out for her.
This scene showcases that in one way or the other Vansh will always look out for Riddhima. The turning point shows Vansh cares for Riddhima more than he lets on. He may not express it, he may hide behind a mask but his gesture of handing the first aid box to her and sitting until she bandaged her wounds is a reaction that speaks in volumes for itself!
The Wedding : Ishq Mein Marjawan 2 recently witnessed Vansh and Riddhima tying the knot. Getting bound by the vows of holy matrimony they are now Mr and Mrs. Vansh Raisinghania. This in itself is a huge turning point in the daily soap. For the past few episodes the audiences were wondering 'will they' or 'won't they', but with drama galore they got married.
Riddhima loves Kabir; it is for him she has married Vansh, on the other hand Vansh is drawn to Riddhima, who is a puzzle, a paheli to him he is unable to solve and hence is drawn more and more towards her. In this triangle the angle of Vansh and Riddhima's marriage surely spices up the drama in the show and it is a turning point. With Riddhima now married to Vansh, who she considers as her enemy and Vansh married to Riddhima who wants to destroy him, their story is ought to witness a lot of twists and turns.
What stands out in this moment is as Vansh and Riddhima partake in the wedding rituals, Kabir and Riddhima's flashback plays parallely with the two of them walking in different directions to achieve their common goal. And with this their -Vansh, Riddhima and Kabir's entangled triangle of love just got a whole lot spicier.
Their wedding though done with different motives, it is done now and this will definitely act as a turning point in the show. It will be entertaining to watch Kabir's next step, Vansh's plan of action and Riddhima's reaction!
Riddhima's 'In…tresting' Fightback On The Cards – Up until recent times the viewers have seen a very nervous and timid Riddhima in the daily soap. But post the wedding there has been a little shift. On their wedding night as Vansh has a 8th vow to give Riddhima, Riddhima too has a 9th vachan that she gives Vansh.
Her head held high as she tells him she will try to make his life 'in..tresting', just like how he thinks it will be, this scene denotes Riddhima's fight back in a very subtle but strong way. Somehow we believe this scene showcasing Riddhima's fighting spirit will go a long way and help her stand her ground.
It may be a small comeback from her to him, but Riddhima standing up to Vansh is indeed an interesting turning point.
From Riddhima's body language, to her confidence facing Vansh head on, the scene between them denoted that her fight back is on the cards and this was a mere first step towards it. This turning point makes things refreshing in the daily soap.
And finally believe us when we say that, the turning points may just seem random, or a usual one but the ripple effect of these turning points will come into play as and when the story progresses and they are ought to have quite an impact!
You can watch and catch up with Ishq Mein Marjawan 2 anytime on the digital platform

VOOT

.
Stay Tuned To Fuze For All The Latest Updates!