Two ladies, his mother and wife surround Shivaay; both think they are doing the best for him. But according to us, they are just making his condition even worse. While the doctors insisted not to give him any stress, they have been doing the opposite.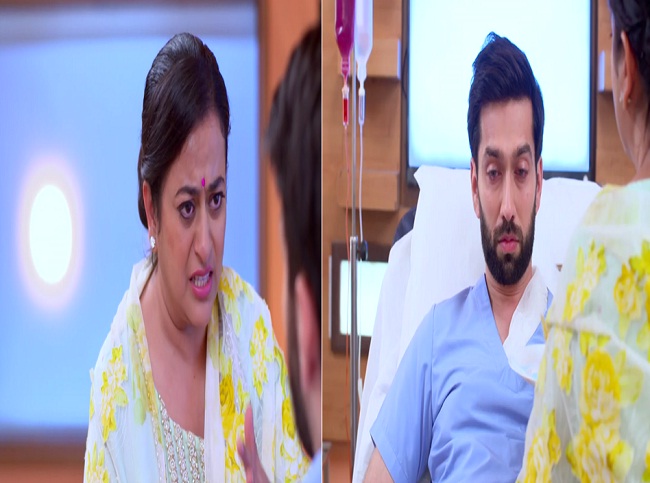 According to Pinky, his son Shivaay Singh Oberoi, a No.1 business tycoon, is not capable of choosing what is best for him. As if he has come on the top by a fluke. She needs to interfere at every point in his life. She knows very well that Anika is an antidote to Shivaay's ill health. However, Pinky would think that, "Shivaay is my son, I know what's best for him, Anika is Jadoogar, she must've asked the bullet to hit near his heart" all this must be Pinky's thoughts for Anika. From previous two episodes, we are confused whether she wants Shivaay to heal fast or remain injured. To us, it seems like Pinky wants the bullet to come out of Shivaay's body by itself.
Yes, she is stressed out, but as a mother she should also know what his son wants instead of pointing fingers on others. In doing best, she is actually doing worst. Which mother will take her son back home in this critical condition? Just for a lame reason that her son is meeting Anika, his wife? Pinky Oberoi, you will never succeed in your mission as Shivaay has lots of brothers from another mother, who always think the best of him in their way. For you, Anika is merely "Rasste ki mitti". Ironically, in olden times the same 'Rasste ki mitti' was used to heal wounds, which Anika is for Shivaay in today's situation.
You stated the fact clearly today that you don't want anyone to come in between "you" and "your" son. The only problem is that we never saw you and your son as a team, did we? In fact, his team is with his brothers and sometimes with his present wife. But here we are seeing you talking rudely with Rudra and Om and not only that. You are creating huge drama in your house blaming Omkara, Rudra and every other person for some sort of defamation with you that you think your son didn't know about?
What makes you think that Om or Rudra would do anything that Shivaay would not know or they would stage an act at this point of time against his wishes? You underestimated Anika's bond with him. Understood. But underestimating Omru's bond with him? Well, are you even his mother or just landed up in that house 2 days ago? Are you sure you didn't lose your memory Pinky? We are doubting that Shivaay's bullet might have invisibly hit your head and you have forgotten the special bond your son shares with his brothers. Accept it. That bond is more special than what he shares even with you!
On the other hand, Anika wants to be with Shivaay but she can't because of her "Vachan" to Pinky. In all other situations Anika, you are seen fighting but today, when Shivaay asked you to be with him, you left. On one hand you are asking Shivaay to take care of himself and on the other hand, you are leaving him. You have always stood for yourself then why not today? For you, everything is Shivaay then why not fight to be with him till he's back to his normal self? What's the point of sulking alone and worrying for him?
Your every word is up to the point, that Shivaay has a good family, he should not go against his mother as new relations cannot be made at the cost of old one's. But is this is the time for all these lectures?. At this point he only wants you. This is something that both of you are not considering. He is "Tadibaaz" only because of you. If you are not there then to whom he will show his "Tadi"?
Both the ladies in Shivaay's life have their own stories and want everything perfect for him. But the loophole is 'Time'. This is not the time to get Anika out of Shivaay's life. No pooja or prayer will act when the treatment is all wrong. At this point, they should act mutually for the benefit of his health.
The following short poem is just for fun purpose. It is not intended to hurt anyone's feelings. We just shared ours.

"O My Maata
Yeh kya ho gaya parmaatma
Pinky mein ghus gayi Ishwari ki aatma
Apni bahu ko maanti hai apni sautan.
Baat karti hai to awaaz nikalti hai jaise ki woh ho koi khaali bartan"