'Me Too' – Somehow this phrase no longer sounds as good as 'I Love You Too' anymore. These days, whenever someone says 'me too', it simply bares the original face of our society, the ugly, repelling and foul face behind this so called 'civilised' social system.
Ishqbaaz has delved into the 'Me Too' era, a topic that probably majority of the women would relate to.
No matter from where we are, irrespective of our families, culture, cities or any other so called discrimination, we all can in unison say 'me too'. And the most pathetic part is from 5 to 50, every child, girl and woman can say 'me too'.
We do live in delusions at times thinking a woman is safe in the house, presence of a mob or family makes her safe.
The thing is – We are wrong!
Some men, feel its safer for them to do whatever they want in the middle of a crowd only.
Gauri was in her house, with her family, still the man took advantage of the busy family members, and every second she was alone in the midst of a party.
A normal person may not even believe it when a powerful, respected and a man of the stature of Abhimanyu Raheja does something like this – But then probably with some men coming from major prestigious professions do behave exactly like Raheja did in Ishqbaaz.
How many female patients are mistreated by their doctors while going through a normal check up? Do we speak? No!
How many students are misbehaved with by respected professors and are threatened to be failed if spoken about? Do we speak? No!
How many female employees are harassed by colleagues or superiors in offices? Do we speak? No!
The issue is – Why do we choose not to speak?
Reason 1 – People will not believe us.
Reason 2 – People will judge us and will allege us instead.
Reason 3 – It causes us utter shame, discomfort and disgust to speak about it.
Reason 4 – For children, we need to understand, they are unable to even understand what just happened with them forget about expressing it.
And these results in our silence. And this silence, empowers them and gives them more audacity to do whatever they want to do with more women.
'Me Too' – The campaign or movement whatever you call it, started off with Harvey Weinstein, the powerful producer in Hollywood, who has been accused of physical abuse and assault by almost 75 women!
The man is 66 now and he has abused 75 women, at some point of his lifetime and has swiftly escaped the crime owing to his power, prestige and also because these 75 women chose to stay quite for 40 long years! If the first five women would have spoken then, with the fearless attitude as they did now, probably the rest of the 70 women would have been saved the torture.
Abhimanyu Raheja, by the reaction of his wife, comes across almost like another Harvey Weinstein. He has done this with many women in the past and Gauri is definitely not someone who is the first in his list. And probably, he keeps on doing this because none of the women prior to Gauri has ever spoken.
And if you are thinking that how can a man have the audacity to touch an Oberoi bahu, well, men do tend to think at times that the more is the social prestige of a woman, the less she will ever speak up about such a situation.
There may come a time, when viewers may hear even Anika speaking up telling her share of 'Me Too' stories. A girl, who has lived alone for a major part of her life with her little brother trying to earn bread and butter all by herself – Will face it more than anyone in life.
Bhavya – Who lost her parents at a tender age, was raised by the commissioner of police, didn't have her share of 'me too' events during school, college or even training institute is hard to believe.
Gauri – This isn't the first time she has faced such a situation. Kali Thakur and his three infamous brothers, together and simultaneously wanted her for themselves.
If the writers want to expand it further, then probably Daadi, Pinky and even Jhanvi have had their 'me too' stories. Let's be frank, didn't Kali Thakur in the middle of a party misbehaved with Jhanvi, at this age of hers, just because he felt her husband takes least interest in her?
A woman, no matter from which generation she is, would feel this. Some would say, it's normal and some would cry in silence while a few decide to speak up.
As a woman, when Gauri cried in solitary – I felt her.
As a woman, when she washed away herself trying to get away with the pain – I felt her.
As a woman, when she felt disgusted after realising the intention of the man's touch – I felt her.
As a woman, when she ran away from the event away from the crowd – I felt her.
As a woman, when she broke down – I felt her.
As a woman, when she tried to hide about the incident from Anika – I felt her silence.
For even I, as a child, was inappropriately touched by my own music teacher. Even I chose to stay silent then. The 65 year old man, older than my father then, had the audacity to do that while teaching me in my own house. Twice it happened and the third day, I told my mother that I no longer want to learn music. She asked me the reason, and just like Gauri's 'chutney gir gaya tha' excuse, I told her that I am unable to cope up studies with music classes and exams were near. And my mom readily let it go. The man had such audacity that he still came numerous times to meet me later, but I never went to meet him, always sending someone or the other to tell him I am not home.
Looking back to that day, I know why I could not speak about it. It was because, I didn't know how or exactly what to say about it. I had been a child then. I felt the touch was bad, but didn't know how to express that and hence I stayed numb.
I want to say sorry today for the silence. Sorry to all those students whom he may have taught later. Sorry to them if they faced the same. The other girls whom he may have taught, if they went through anything bad, wouldn't have to go through the same, if I had spoken then.
And yes, that makes me a part of 'Me Too' as well.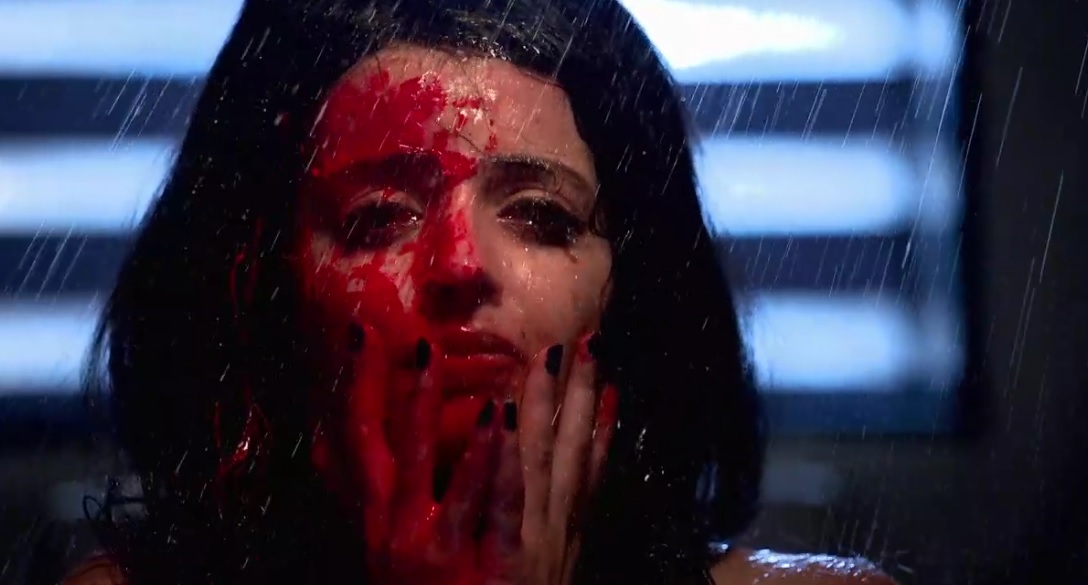 P.S:- The coming days will be a test of time for Shivaay-Anika, for being the elders and almost like parental figures to Gauri. For Om, for being the husband of the girl who got abused. It's like circumstances coming back to him staring at him again after a long time, giving him another chance this time to rectify the mistake of that time when had chose to leave Gauri alone to Kali Thakur last time (people who have watched Dil Boley Oberoi would know about this!), and also for the lady cop of the house, Bhavya, for being someone who represents the law and the right in the house.
P.P.S:- Needless to say, Shrenu Parikh as Gauri did a brilliant job in portraying the nuisances of Gauri's emotions in today's episode.
And before leaving, can you guys find the staunch similarity between these two shots in the show today? We won't explain it, instead will leave it to the pictures to do all the talking –