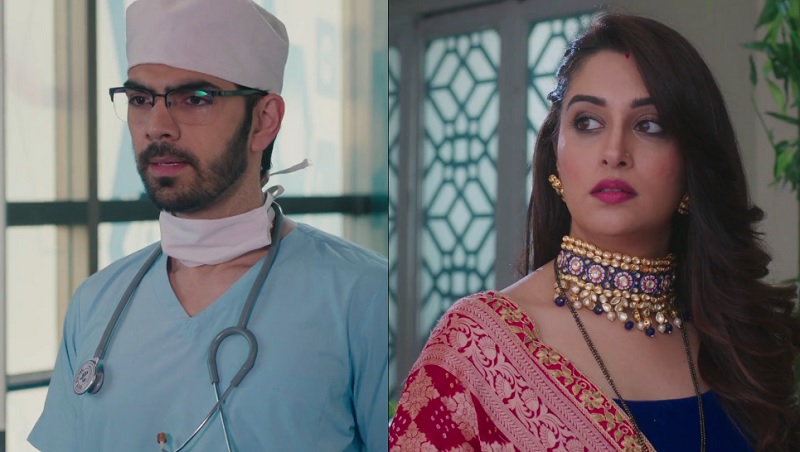 One honest confession – This article or any other piece praising this show should have come much earlier. However, something or the other kept coming and the piece got delayed.
Star Plus' Kahaan Hum Kahaan Tum is for the new age audience. For those who complain about the loud daily soaps, who look for logic in shows and for those who want well defined strong leads on screen who are relatable.
Actress Sonakshi Rastogi and Dr. Rohit Sippy are two hard working and genuine souls belonging to the north and south poles respectively especially because of their work zones.
They in general have many things in common like they both are hard working individuals, love their family, responsible, respected in the society and also they have a similar past in their love life that has created a scar in their minds. They have loved and have been hurt in love.
The only difference is their work fields are way different and both are exceptionally busy or 'not interested' to understand each other's work. And this applies especially to Rohit.
So far the show has been a blast in showing the real television world and Rohit and some members of his family also represented well the general notion people have about television actors – which is not as reputable or respectful as film actors.
Here are 5 things that we really loved in the show –
1. TV is a hard working medium. People do work for inhuman hours for just one episode on TV but still the writers of the shows on TV often end up showing loud and over dramatist c sequences that are often illogical and impossible by nature. Kahaan Hum Kahaan Tum's one sequence that became hugely popular on social media was the one wherein Dr. Rohit Sippy watches an episode of Sonakshi's show in which she enters the OT to perform surgery on her husband to save him, something that the real surgeon failed to do.
This infuriates Dr. Sippy terribly,however, he sees his house helps watching the same with utter devotion and somehow denies to admit to his logical talks. The scene rightly represented 3 scenarios – Some shows on TV are really as illogical and dramatic as its shown in the show, the house help Vimmi and her addition and devotion to the show and towards Parvati (the character Sonakshi plays) are the face of the real TRP audience probably and Dr. Sippy represented the set of audience who are forever critics of TV content as a mass medium. It was a scene that was close to reality from all the 3 aspects and at the same time was a comical affair that will make you laugh effortlessly. A truly well written scene it was.
2. The show also does come up with the mention of the stressful Thursday for the television professionals. The producer of Sonakshi's show can be seen on high stress before every Thursday. That way we remember how one of the most popular screenplay and dialogue writers, Harneet Singh (of Ishqbaaz, Tashan E Ishq, Bade Achche Lagte Hain fame), terms the tension of Thursday as 'Thursday Monsters'. In real, many might not know, as Thursday is a TRP day, it is rather like a result day for exams every week for TV professionals.
3. Troubling co-actors is also another reality on TV. There have been many instances on TV, wherein the hero and heroine have displayed minblowing chemistry on screen. However, their personal relationship is of warmongers. Let's not give the example of the shows here but Kunal and Sonakshi's not so healthy equation surely represents the professional hurdles that TV actors go through.
4. Dipika Kakar and Karan V Grover are absolutely fantastic in their respective roles. Karan V Grover especially for his minute expressions contributing to comic element in the scene. If not his expressions, then probably the scene would not have been so comical in the first place. We would give him a thumbs up especially for the scene in which Dr. Sippy during his dinner time watches the TV show 'Kahaan Parvati Ki', makes fun of the show for some time, wonders at the level of stupidity shown in the show, feels bad for Parvati, goes mad at the insult of the surgeon on screen and then screams and shouts about shutting down the show. He was simply phenomenal on screen. Dipika Kakar in her scenes of emotional outbursts and teasing Dr. Sippy leaves a remarkable mark behind.
5. Another lovable fact about the show is how Sonakshi expresses her mind and talks to the audience in between the scenes. It's a great way of connecting to the audience and Dipika Kakar is really impressive in these scenes. Also, starting the show with a scene between Sonakshi (Dipika Kakar) and Divyanka Tripathi was a great idea! It made things all the more relatable about the show.
Quick reasons about why you should watch the show –
a.It is less dramatic and closer to reality
b.It is entertaining with loads of comic relief
c.The lead actor Karan Grover and Dipika Kakar are outstanding
d.The show is relatable for today's new age working couples
e.It makes you delve into the real lives of TV professionals in a real manner.
If you are watching the show, do let us know in the comment section about what you like about the show. If you are not watching, we would recommend you to watch it.
Stay Tuned To Fuze For More Updates!