The very handsome and dashing actor Karan V Grover who we have seen playing many different characters so far made a grand comeback on television with Star Plus' Kahan Hum Kahan Tum.
Karan is playing a heart surgeon, Dr.Rohit Sippy in the show and is currently ruling hearts because his reactions towards the OTT scenes in the television show is all of us!
In an EXCLUSIVE interview with us, Karan shared the unknown facts about his character, the USP of the show and much more!
Read on to know!
Excerpts.
• What attracted you the most about Kahaan Hum Kahaan Tum?
The best thing about Kahaan Hum Kahaan Tum is definitely the idea of mixing two different worlds, of television industry and medicine. We are showing the working of television industry from a doctor's perspective or surgeon's perspective. In other words, it's logical perspective versus someone who believes in the magic and romance of life and that's what attracted me the most about this show!
• Tell us something about Dr.Rohit Sippy that we don't know yet?
Dr.Rohit Sippy is an extremely romantic person, this side of him has not come out yet but whenever it will, people are gonna love it! He is one of those old school passionate lovers.
• Describe the story of Kahaan Hum Kahaan Tum in a sentence.
The romance between logic and illogical!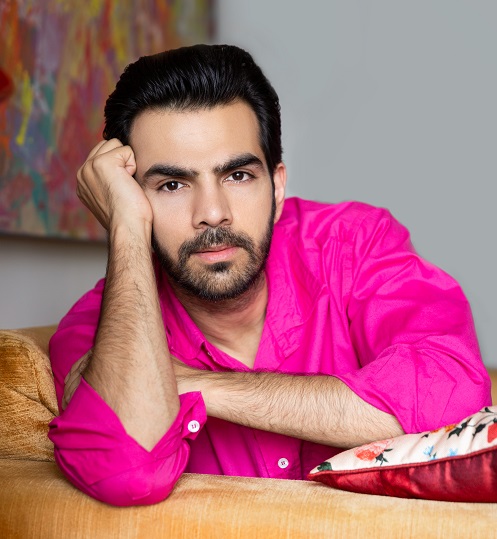 • How easy or difficult it is to play a surgeon on -screen? Did you go through the medical terms as a part of the preparation?
Yes and we still do it. Just a couple of minutes back I was talking to a consultant who was telling me about angiography and angioplasty. As a surgeon, I have to say the medical terms with confidence so that when I speak them, they don't sound foreign to me so yes, it's a constant involvement and preparation. We keep getting reactions from various people from my mom's hospital because she is a counselor, so when they see something that can be improved, they send messages and we try to incorporate those changes for the best results.
• Two similarities and differences between Dr.Rohit and you?
Two similarities would be, both me and Dr. Rohit Sippy are very friendly with dogs. Secondly, Dr. Rohit does not like to listen wrong or rubbish about his family and I'm the same, I don't like it too. I like keeping my personal life very personal.
Two differences would be Dr.Rohit is highly educated while I'm not (Laughs). He is a surgeon and I'm not so that's one big difference between us. Second difference is, Dr.Rohit is very, very rich and I'm not! ( Laughs! ) Actually, there's a third difference too, Dr.Rohit doesn't watch TV but I do watch it! (Laughs! )
• What can we expect in Rohit and Sonakshi's love story in the near future?
Well, you can expect lots and lots of crazy romance between Sonakshi and Rohit in the upcoming weeks. I don't have any idea on the sequences yet but there might be a monsoon sequence too.
• Describe Sonakshi in five adjectives as Dr.Rohit?
She is emotional, responsible, a drama queen, considerate and very righteous.
• How is the character of Dr. Rohit Sippy different from all the characters you have played so far?
Dr.Rohit is prim and proper, highly educated, arrogant, he has superiority complex and is very, very dominating compared to all the other characters I have played. He thinks, he knows more than everybody else and for a fact, he is not stupid about that. While, for instance Shaan, the character I played in Bahu Hamari Rajni_Kant was a genius but a stupid one. He thought he knew it all but he actually didn't. He kept on bragging about how proud he was of himself because he made a humanoid and he kept on proving it but Rohit knows that he is a heart surgeon and he is indeed one. Rohit doesn't go around saying I'm the best heart surgeon but Shaan went around saying, I'm a genius. If you compare Rishi and Dr.Rohit then, they are completely different from each other as Rishi was meek, timid, dominated husband also, the character I played in Spotlight of a rockstar was obviously the complete opposite of Dr.Rohit.
• What is the USP of Kahaan Hum Kahaan Tum as per you?
The way Sandiip Sikcand has decided to show the television world through Sonakshi and the way he shows Dr.Rohit Sippy's sarcastic side is the most wonderful part about the show.
• Being the part of the industry, how weird or fun it is to troll the OTT television shows?
For me, it's not trolling, I love television and it's all fun. First of all, we have to accept it very honestly that that we are an entertainment industry and we are here to entertain. The time audiences spend watching us whether it's on television or movies or web series should be full of entertainment, stress free and worth it. And, it's not important that trolling has to be negative all the time, it can be funny as well and that's what Rohit does because he sees it with a logical perspective and finds it really hilarious.
• Message to your fans?
First of all, a big thank you to all of you guys for all the love and support, it's because of you all that I have worked for so many years, please continue to love and support me and I promise I will try my best to entertain you all.