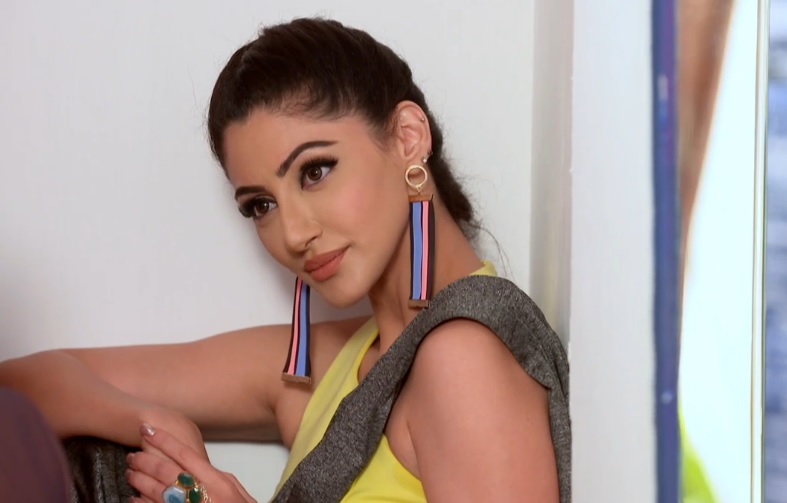 She came into light through her character of 'Samaiyra' in the popular show Jamai Raja and the next time she made an appearance, was pretty soon in the promos of Star Plus' Ishqbaaz.
It's been two successfull years for the show and a number of vamps and villains have made their entries and exit  but apart from the leads, we have had another constant in the show since the very first promo and that's none other than one of the most loved and stylish vamps of the TV, Reyhna Malhotra aka Svetlana.
The actress has garnered the spotlight real quick with her brilliant performance and in a way that now her entry in the show indeed excites the viewers to no end. She is the only one who slays with her style game, who manages to make everyone go gaga over her filmy entry in the show and her 'takkar ke clashes' with the Oberois .
Looking at how her fans must be missing her while she's not on board at the moment, we caught up with the lovely, Reyhna Malhotra in a candid chat to know more about her and Svetlana!
1. You are one of the most stylish actors of T-town. What is your own personal style statement? Is it same as Svetlana on screen?
I like to look good in whatever I dress up in. It has to be comfortable and sexy. I try to put in my own thing when I dress up. Svetlana dresses up in sarees and all of that. Saree statement is not me, my style statement is denim and gym wear. Whenever you see me off camera, I am seen in gym wear and casuals. I like to be very hippy and stylish.
2. One scene of Svetlana you loved to do and one that you didn't like at all.
I loved doing every scene as Svetlana. There is this one scene that I did not like. There was this one track when Tej turns into a ghost and I was scared of him, I think that was a little funny.
And of course there is one more when she feeds amla to Omkara, matlab woh alag sa kuch track tha, I could not relate to the track and woh lab mein baitke patah nahi kuch kuch karr rahi hai, but it was a part of her character.
So I had to look convincing while doing it, but when I read it I was like yeh kya hai. But anyways Indian television is all dramatic, it has to be drama all the time. So an actor has to be convincing while performing it, we have to do it.
3. Viewers especially love the takkar ki nafratbaazi between the mighty SSO and you. How do you manage to pull off the same intensity and how's your equation with Nakuul Mehta offscreen?
Nakuul is a very nice guy and he is a very positive and a very comfortable actor himself. Very confident and a very good actor. When you are a good and confident person and a confident actor, you are very comfortable in your space. Matlab aapko jo diya jaayega aap uske saath justice karoge in your given character.
You will not try to overpower or you will not try to intimidate other actors. So I think that is what works between me and Nakuul, we both are comfortable in our own space and I think that is how the scenes come out.
I have loved personally doing scenes with Nakuul and Kunal. Mujhe bohat maza aata hai in dono ke saath scenes karne mein, kyunke mazedaar scenes likhe bhi jaate hai aur bohat achche se aate bhi hain.
And Nakuul is actually a fabulous person. If you are a good person, good human being, that automatically reflects in your performance, I personally feel so.
4. Svetlana is one vamp whose entry in the show is welcomed by the viewers with cheers. She is bad yet never hated. Why do you think that is the case?
I am very lucky for that. People like that whole drama that I create while performing and that I bring in, in every scene because I know that the audience are waiting for Svetlana's drama and tashan. I make sure whenever I come on the screen I give that to my audience.
I love my work, I love what I am doing, I guess that is what shows and if you are genuine to your work that reflects on screen and people nowadays are also very smart, they know ki genuine kaun hai and that is what comes across.
That is why people love me so much, the kind of messages and kind of love I get, I am very thankful to all of them, because if they would not have loved Svetlana as much, Svetlana would not have been written so much. It is all because of them. I am lucky and thanks to all of them who love me………contd.
Click through the 'NEXT' pages to browse further