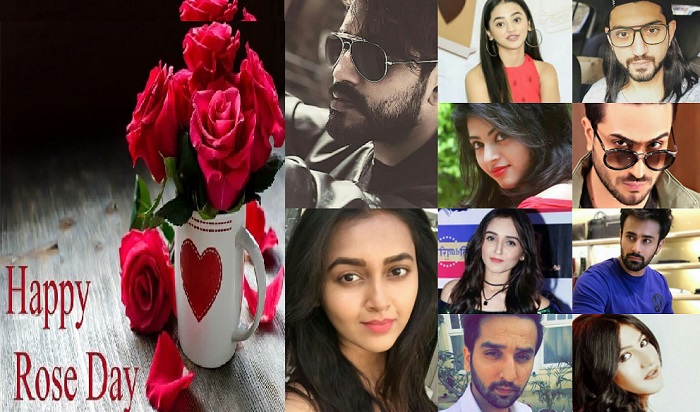 The Valentine's Day countdown has officially begun with Rose Day. There's a lot you can say with just a rose as long as you know what it means. Here are television celebrities pick their favourite colour and has a reason behind.
Suyyash Rai: The red rose, undoubtedly, signifies an expression of love. They convey longing and desire. So, if you love someone or want to tell someone you have taken a liking to them, give a red rose, with fingers crossed that your message reaches them. That's how I'll make my wife special.
Tejasswi Prakash: I'm in love with Yellow Roses as Whats better way to tell your best friend that you love them? Signifying friendship, yellow roses are perfect for whom you want to be friends with.
Pearl V Puri : Yellow Roses are best to pick for the day to celebrate the rose day. Yellow is for friendship. Send a bunch of yellow roses for a close friend on Rose Day. The cheerful colour also signifies positivity and joy.
Helly Shah: I really love white roses, as they identify simplicity and peace. It brings lots of posetive energy. Its a best way to gift them if you want to patch up with someone you had a fight with. No better way to show peace than a white rose.
Mahika Sharma: The orange colour represents fierce emotion. These deep-coloured blooms signify passion and energy. If you feel an intense desire for someone special, then opt for an orange rose to go with a red one to give a strong message. They are found very rarely but has lots of attraction.
Kunal Jaisingh: Yellow is an expression of exuberance and friendship. Give this to a friend to brighten up your friendship,I love yellow roses. Friendship is required in every relation to keep them fresh and healthy.
Roshni Sahota: My favourites are the pink roses. As pink roses signifies gratitude, pink roses are ideal if you want to say thank you to someone. Besides, they look beautiful. Pink is favourite to every girl.
Tanya Sharma: Lavender Roses are really attractive and the roses will make you love them when you see the colour. They are light purple. Though found rarely, the colour of this rose conveys enchantment. However I read that it also means 'love at first sight'
Aly Goni: White Roses are just perfect. The calming colour white stands for purity, innocence and humility. They are the traditional flowers signifying a new beginning. Rose Day necessarily isn't for couples. If you've had a fight with a friend or a heated argument at work, send a bunch of white roses as a sign to end the cold war.
Puru Chibber: Orange Roses are found rarely but really are very special. As orange stands for enthusiasm and passion. If you're proud of someone, let them know with orange roses.