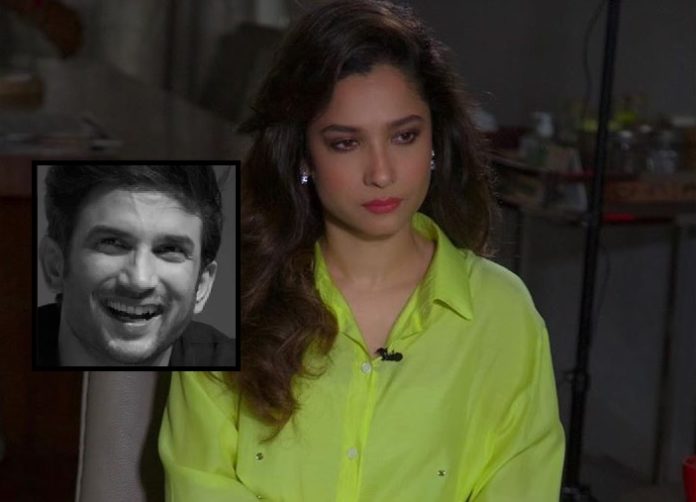 The star has fallen but still it is shining bright up above the sky. It happens with very few actors that even when they leave the mortal world, people try to hold on to them this tightly. Sushant Singh Rajput's fans have been doing that since more than 45 days after his death. No matter what stories were dished out, no matter how many people came out to insist that he was depressed, his loyal fans rejected all the theories and went into self investigating mode and took social media by storm demanding #JusticeForSushant. Their theories that were mocked then are now coming across as major evidences putting question mark on the investigation and claims of suicide so far.
Ankita Lokhande in Republic TV today mentioned exactly why his fans are so emotional about him and why they are fighting so hard for him. She said, Sushant used to spend almost 2 hours everyday replying to his fans. And even told her, 'My fans make me. I am an outsider and they will lift me if I fall (Agar main girunga to woh mujhe uthaayenge). It makes a difference what they feel'.
She also mentioned how negative reports in the media used to affect him. The blinds and even articles about how their relationship was perceived used to affect him. She claimed he was an emotional guy and things related to his image mattered a lot to him.
She also mentioned that the love Sushant is getting now would have been surprising and unexpected for even Sushant. But it is his 'Karma' that is giving so much back to him. She mentioned his contribution towards the education of so many children and his other work that has made him the country's hero.
She said that she wants India to remember Sushant as a 'hero' and not as a 'depressed guy'. She also insisted that she agreed to come up for the interview only because of Sushant's fans and asked them to celebrate Sushant and his achievements in the coming time. As much as she demanded for justice, she also mentioned how she was very much in touch with Sushant's family (including his father and sisters) even after her breakup with him but not with Sushant. She urged that 'truth' should come out and justice should prevail.
Sushant in fact always replied to his fans on social media. Here are some of those memories he shared with fans –
As promised my friend, @subhamranjan66, what you wanted to do has been done. You made me do this, so be extremely proud of yourself. You delivered exactly when it was needed.
Lots and lots of love. FLY🦋
Cheers 🦋🌪🌏✊🙏🏻❤️#MyKerala 🌳☀️💪🙏🏻❤️#KeralaReliefFunds pic.twitter.com/fqrFpmKNhK

— Sushant Singh Rajput (@itsSSR) August 21, 2018
Please tell me what I could do. Prayers for the father 🙏🏻❤️ https://t.co/2PeQV7ryRM

— Sushant Singh Rajput (@itsSSR) December 19, 2018
I absolutely will. Thank you for being so kind. ❤️🙏🏻💫🦋 https://t.co/Tmlk4HApQr

— Sushant Singh Rajput (@itsSSR) December 17, 2018
Dreams have a way of surprising our reality.
ps. I look forward. 🙏🏻💫🦋❤️ https://t.co/AWcQgugLuU

— Sushant Singh Rajput (@itsSSR) December 17, 2018
For that you need to meet me first I guess :)) I would love to have a good conversation though 🙂 🙏🏻❤️💫🦋 https://t.co/75bUbaTbvO

— Sushant Singh Rajput (@itsSSR) December 17, 2018
You're most welcome 🙏🏻❤️🦋💫 https://t.co/WBpTRys736

— Sushant Singh Rajput (@itsSSR) December 11, 2018
Nainika Sharma, my Girl, this is so sweet of you. You wouldn't even know how happy you just made me. I promise you that when I get my Flying License, you would be the first who I would request to accompany me. pic.twitter.com/okawKSaNNW

— Sushant Singh Rajput (@itsSSR) August 23, 2018
Sushant replied so many fans that he even got blocked by Instagram once and he made a post on that too –