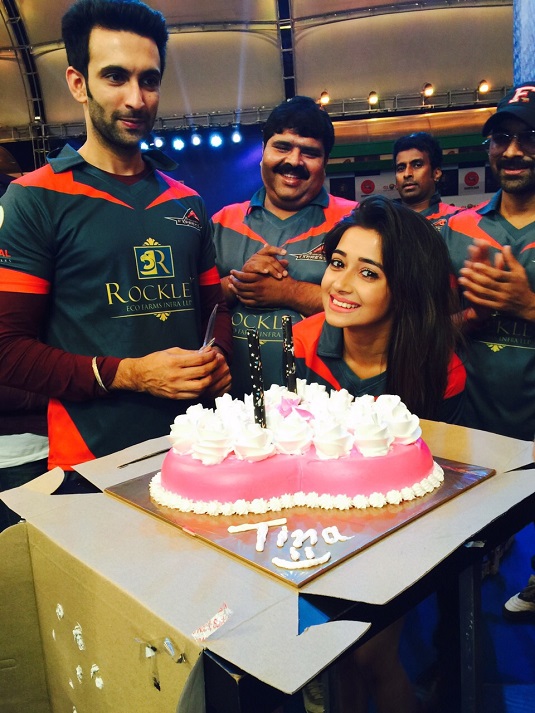 Tina Dutta who plays Meethi in Uttaran has turned a year older on 27th November. In the cricket field, post the match, her team surprised her with a huge pink cake with roses on Wednesday night. Tina said, "It was a nice gesture by my friends to surprise with a lovely cake. Mrunal Jain, Nandish and Ajay Chaudhary are very good team owners and everyone is highly motivated to play".
On being asked about birthday plans she said,"This time I am celebrating my birthday with my best friends. Every year I celebrate my birthday with my mom and dad.But unfortunately, this year my mom is not in town to celebrate my birthday with me."
Speaking about her childhood birthday memories, she went on to say, "My childhood memories of birthday celebrations is that my mom used to cook all my favourite dishes which includes chicken, mutton and fish curry. When I was kid I used to celebrate in my school and used to distribute sweets. Every year's birthday is special for me. I am always excited for my birthday".
Tina is also expecting a surprise gift from her parents this birthday. "My parents give me the best gift every year.Last year my parents gave me a new car and this year also I think they will gift something special.My best friend Aneri is going to make my birthday special and memorable too", she said.
On being asked if she gets a magic stick what will be her first two wishes, she says, "I would wish I get a Jaguar and I get good work coming in my way and my show Uttaran should continue for two years more. Two things I do on my birthday is to visit temple, do pooja and donate some money to charity.Even this year I will be having birthday party but only with few select friends. Age is just a number for me and I am proud to say that I am just 23 though I don't look like".
Tina's friend Shashank Vyas'birthday too is coming up. About Shashank's birthday, Tina said, "Shashank is a very good friend of mine and turns a year older on 30th. Happy birthday dear. May all your wishes come true and always be happy is what I want to tell him".
Click through the 'Next' tab to view more pictures from Tina Dutta's birthday celebrations with the Allahabad Express team.