Kuch kuuch hota hai Rahul..Tum Nai Samjhoge…
Kuch kuch hota hai Anjali..Tum Nai Samjhogi…
Yes! You got it right. These dialogues are indeed from the classic Bollywood blockbuster movie Kuch Kuch Hota Hai. The movie that gifted Karan Johar to the industry as a filmmaker and once again brought Shahrukh and Kajol's sizzling jodi onscreen to dazzle the hearts of the viewers.
The movie showed love from a different perspective and taught us the importance of friendship in a relationship. This movie did wonders with Kajol, Shahrukh and Rani's trio and the viewers equally were in awe of Sana Sayeed who played the character of Shahrukh and Kajol's daughter.
Just imagine! This beautiful movie is getting remade on TV and by none other than the Queen of Indian television Ekta Kapoor under Balaji Telefilms. We did let our imagination run wild and came up with the following predictions. Take a look.
Tina will return after her death – Since Balaji shows are known for the characters coming back from the dead, we are absolutely sure Tina will make a comeback, years after her death when Rahul will be happily married with Anjali aka Kajol.
Anjali would have been married atleast once – Balaji shows are very spicy and full of twists and turns. So, it wouldn't be surprising to find Anjali aka Kajol's character been married atleast once and her prospective marriage with Aman being the 2nd one before Rahul re-enters her life and woos her away.
Aman will turn negative – Rarely do we find people sacrificing their love for someone else and living happily then after in a Balaji TV show. Therefore, we can hope to see Aman as a negative character who pretends to reunite Rahul and Anjali but secretly hold a grudge for Rahul and plan to separate them in future.
Anjali's mother will not approve of her and Rahul's marriage – TV shows are full of grey shaded characters with Balaji shows being no different. So, it can be a possibility that Anjali aka Kajol's mother will not approve for Shahrukh and Kajol's marriage as Shahrukh will be a widower with an 8 year old child.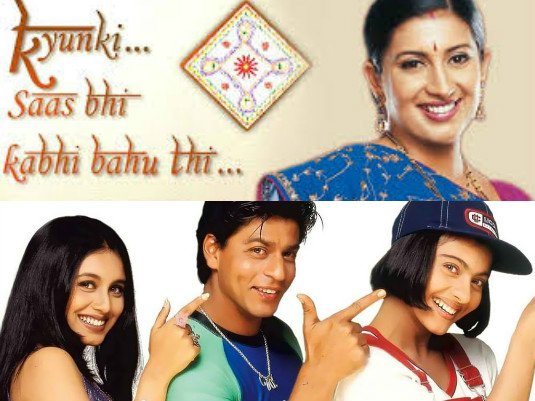 The show will go on forever – There is no prize for guessing but you did guess it right. Like all Balaji shows, this one too will air for years and years with addition of new characters and Rahul and Anjali facing some or the other problem time after time keeping the essence of Balaji shows alive.